Practice, play and compete using the latest in virtual golf technology.
Enjoy the world's finest championship golf courses including Pebble Beach, Pinehurst, Kiawah Island, Banff Springs and many others, captured in spectacular High Definition. Each course is faithfully reproduced in every detail using our special technology. It's like being there! Nothing comes close in the Golf Simulator market plays this way

Our Golf Simulators feature the most comprehensive and accurate trajectory analysis including ball speed, club speed, launch angle, ball spin, club face impact and swing path measurements. Professional teaching and club fitting software and accessories are also available including Launch Monitor and Swing Analyzer.
Indoor Golf Simulator design for: clubhouses, recreation centers, luxury hotels and resorts, indoor golf centers, golf retail stores, sports bars and luxury homes. We also install GASP systems Golf Swing analysis Software.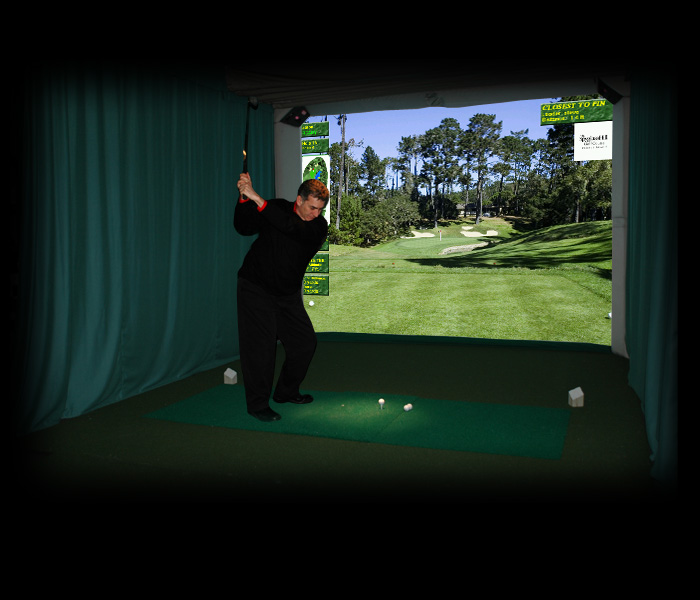 News
Doha Golf Club Qatar take delivery of a HD Golf Simulator for their new coaching facility which will also house a Full GASP systems video analysis studio.
Lyon Indoor have installed 3 HD Golf simulators in their facility in Lyon. They are also offering a GASP systems video studio with balance lab, K-vest and trackman to offer a golfing ecperience indoor like no other.
Hole in One Golf Luxenbourg take deleivery of a HD Golf Simulator for their new facility in Luxembourg.